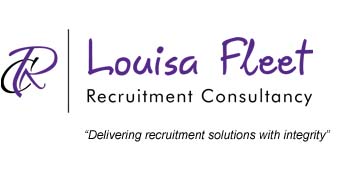 Flexible Working in Real Life
What really is flexible working?
It's an interesting question when you think about it.
At Louisa Fleet Recruitment we are proud to offer flexible working, but when you start thinking about what flexible working means, it is clear that it will mean different things to different people.
We were recently in a meeting where a client mentioned that often candidates come along dictating the hours they want to work as their definition of flexible working is to work only when they want to and expect the company to fit in with them. His expectations are that flexible working involves give and take on both sides.
When I joined Louisa Fleet Recruitment I was offered a school hours, term time only contract which was ideal for me as I was returning to work after a career break to look after my children. I was delighted when I had settled into my role that Louisa offered the flexibility as promised but also that I was able to work extra hours if needed and I was offered opportunities for training and development too.
Yes, this required a bit of flexibility on my side too, but as an employee I feel that if you get some flexibility from your employer it is easier to want to be flexible for them too.
Flexible working in real life:
Here is an example of how the give and take has worked for me and Louisa recently.
I had taken the week off for February half term, as I usually would. At the beginning of the week I had a message from Louisa to say that a client I had been working with a lot wanted to meet us – brilliant – but that he could only meet on the Friday of half term. She was offering to go by herself but wanted to give me the opportunity to come along too.
I really wanted to be involved so arranged some childcare and went along and I was really pleased to be asked.
The in the last couple of weeks I've been really lucky that Louisa has been really accommodating and flexible with my personal circumstances.
First of all I had to go and collect a new car – I was super excited and Louisa was excited for me and when I asked if I could leave early to pick it up she was happy for me to do so.
And then this week I have been and spoken to her about something I really wanted to do outside of work. I had been thinking for a while about becoming a school governor at my children's school and was invited to help out with some meetings that were going on – two in the same week and one was very short notice. They had to be done within school time, so in my working hours, so I asked Louisa if she would release me to go and help out.
She has been really accommodating in letting me go along and make up my usual hours out of hours, by starting early and finishing late when I can, which I am very grateful for.
Flexible working - give and take on both sides
I agree that flexible working involves both sides and coming to an agreement rather than walking in and demanding certain things from an employer.
And for me, I am really grateful when Louisa is flexible with me for things like school plays and parents evenings and I think the feeling is mutual when I go to an early morning networking meeting or stay on to do extra hours after school when we are really busy.
For us flexible working works because we are both willing to go the extra mile – I don't think it would work so well if it was all one sided.
What are your thoughts? We would love to hear what your definition of flexible working is?
---
Looking for some help with recruitment?
Get in touch with one of the team today:
Phone – 01189 680830 / 01189 680831