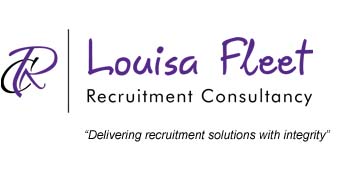 Why I love my job
As it's Valentine's Day today, we thought we would take the opportunity to share with you what some of our team at Louisa Fleet Recruitment love about our jobs!
Pam
There are several reasons why I love my job, the most important to me is the flexibility to be able to work around my home life and my children. I also love how varied and fast paced my job is – I am not someone who enjoys sitting and twiddling their thumbs, so to be kept busy is great!
Also our boss acknowledges she is not the font of all knowledge; she values and respects our experience and the expertise we bring. My opinion matters and so does everybody else's, whatever level they are.
It's the feeling I get about being part of a strong, independent female team that is so satisfying.
Kathryn
My job is very varied which I really enjoy and Louisa has encouraged me to use my creativity and skills in all areas of the business, which I really value. Obviously one of the best bits of my job is being able to give people good news that they've been offered their dream role!
I also love being able to be flexible in my role – it's not often that you find a "family friendly company" that really is family friendly, but Louisa Fleet Recruitment really is and this has allowed me to have a career that can work around my family life.
Kate
I have recently joined the Louisa Fleet Recruitment Team and thoroughly enjoy the constantly busy pace! The clients are all lovely which always makes my job easier.
Louisa gives me the flexibility to juggle a full-time role whilst still ensuring my family life doesn't suffer.
On top of that, the team I work with are all absolutely lovely. They have made what I thought might be a difficult transition from nearly 9 years with my previous company to feeling like part of the team from day one!
Natalie
I love my job because no day is the same! I never know what's going to be waiting for me when I log on in the mornings and I love that it keeps my working day fast paced and interesting. I simply don't have time to get bored!!
I love working with such a vibrant group with a great work ethic and we all bring something different and unique to the table!